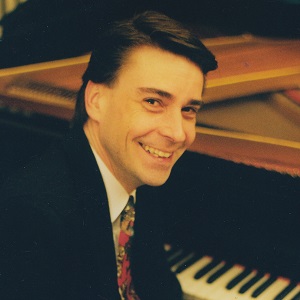 Ralf Ruh was born in 1963 in Winterthur/Switzerland. From the age of 5 he learned to play the accordion, and from the age of 12 the drums. With 17, he switched from accordion to piano. Starting at 20 he worked in several jazz bands in and around Zurich, among others K.T. Geier, Richard Hager. He played in the trio of the Danish pianist Jesper Naur, known as all Zurich rhythm section from Denmark and enrolled at 23 in the Swiss Jazz School Bern, where he studied with Billie Brooks (drums) and Günther Kühlwein (piano). Ralf Ruh joined the southern German band Karl F. Jazz Express founded by Karl von Hohenzollern.
Ralf was active in various big bands as composer, arranger and drummer, among others with Victor Burghardt (HU), Jimmy Woode (United States), Sandy Patton (United States), and Eugen Cicero (Rome). He was also a member of the Bruno Steffen/Heiner Althaus Quartet, with some Swiss tours followed. In 1990 he participated in the final of the Europe Jazz contest with the Dave Ruosch Trio, as drummer he lead own groups such as heart BOP 2, presented on Radio DRS in news from jazz, and as a pianist the Quartet Jazz ahead.
After graduating from the Swiss Jazz School in 1991, he went on tours in Switzerland and southern Germany with the Wolfgang Obert Quartet and the Luke Heuss Quintet (with Peter Schärli, trumpet).
He has been working as an organist in trios and quartets since 1995, among others with the Ralf Ruh Hammond project and B 3 legacy. With the Big Band he took part at the Montreux Jazz Festival in 1995 (receiving a diploma outstanding performance by the Festival management), and became a member of the Swiss Army big band, directed by Pepe Lienhardt.
In 1998, Ralf Ruh moved to Berlin and became a teacher at the global-jazz-academy in the fields of harmony/ear training/rhythmic. In this context, he is the author of appropriate textbooks for the global jazz academy and is leader of various big bands (as arranger).
As a drummer he performs in several bands in the Berlin scene (including The toughest Tenors and Sebastian Wittstock Trio), and has many appearances as an organist with Cookbook (for Jazz Radio 101.9), Vitamin B3, the linear Ensemble and various other line ups, such as with the Stanley flower Quartet. With a new edition of Jazz Ahead as trio with Lars Gühlcke (b) and Peter Horisberger (dr) he also has been working with singer Bettina Pohle since 2008.