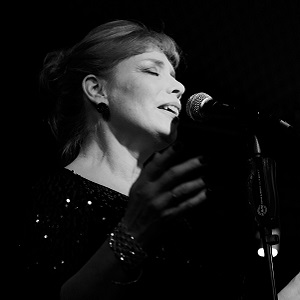 Bettina Pohle has been singing all her life. Born in Berlin, she started taking piano lessons at age 6, later adding flute and voice to her music education. She sang with the Berliner Konzertchor for years, before leaving for the United States in 1986, where she studied literature and voice at the University of Georgia , placing 2nd at the classical student competition NATS the same year, and concentrating on art song and oratory performances as a soprano soloist.
After moving to California, she continued her studies in literature, graduating with a M.A./Ph.D. in from UC Berkeley, California in 1994. While studying, Bettina continued to sing in classical and contemporary chamber music ensembles, among them Anthony Pasqua's Perfect Fifth Chamber Choir and Robert Geary's The San Francisco Chamber Singers, with whom she also recorded a CD. In Berkeley she eventually switched to vocal jazz, when – after working with pianist Ellen Hoffmann and participating in a workshop with Mark Murphy – she joined Bill Ganz's UC Vocal Jazz Ensemble, with whom she also went on tour to Hawaii. She was given the University of California Chorale Ensembles' Award for Greatest Musical Achievement, 1993-1994. Due to her vocal qualities, Bettina also worked in the Bay Area as a sought-after voice-over artist for many years. From 1995-1997, Bettina was employed as Asst. Prof. in the Humanities at the San Francisco Conservatory of Music in San Francisco, California. After 12 years in the US, Bettina returned to Germany and her homewon Berlin.
After pausing to raise her two daughters Morghan and Avril, Bettina picked up singing jazz again in 2008, this time concentrating on solo vocal jazz, studying with the husband-wife jazz musicians/teachers team Connie Moore (voc) & Reggie Moore (piano) for two years, and in 2008 beginning an utterly creative and congenial cooperation with the Jazz pianist, percussionist, teacher and composer Ralf Ruh and the Ralf Ruh Trio with whom she recorded 3 CDs and continues to perform in and around Berlin.
All photos by Stefan Röhl