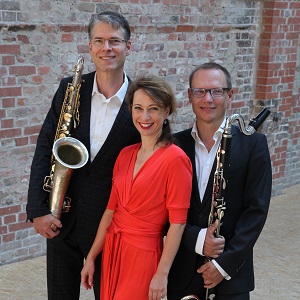 Catfish Row reaches deep into the box of compositions by George Gershwin, born in New York in 1898. This is a special case in terms of music history, moving between the genres, compiling countless songs for musical and film as well as classical concert works such as the Rhapsody in Blue, Piano Concerto in F major, An American in Paris or the opera Porgy and Bess. Today George Gershwin is regarded as the creator of modern American classical music or of a new kind of symphonic jazz in terms of his classical works. Here, in the fusion of classical and jazz is also to locate the starting point of the ensemble Catfish Row.
Anett Levander (vocals, percussion)
Trained in jazz and pop singing in Berlin, Anett Levander plays the vocal part here.
As a freelance singer she works since 2000 in stylistically very different music ensembles; from jazz quartet over big band, own cabaret programs to
A-cappella world music.
She is a permanent member of "The clay pigeons" and of "Aquabella.
Levander sings for various CD and film music productions in the recording studio.
She teaches singing at Berlin music schools.
Christian Raake (saxophone, flute, composer, arranger)
Born in Berlin, Christian Raake studied flute and saxophone at the HfM Hanns-Eisler Berlin. Later, the shakuhachi (Japanese bamboo flute) was added.
In addition to freelance musician activity in various band projects, he plays for many CD productions (including Mark Murphy & Till Brönner) as well as for film, television, radio and theater.
Christian is a longtime member of the saxophone square for which he also composed.
He teaches at the HfM Hanns-Eisler (Jazz-Institute-Berlin) flute and saxophone at the Berlin music school Béla Bartók.
Dirk Steglich (bass clarinet)
Born in southern Germany, Dirk Steglich completed his music studies, majoring in saxophone, at the conservatory in Würzburg. Since 1995 he works as a freelance musician with saxophone, clarinet and flute as well as pedagogue in Berlin.
In addition to film music, studio work and theater projects, he plays in various bands from modern jazz to freer genres. With the bands Heliocentric Counterblast and Chiffchaff he received the Studio Prize and promotion of the Berlin Senate.