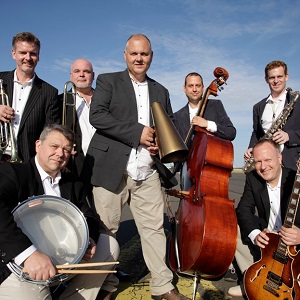 The CD to the 30th anniversary of the band (actually four of the seven musicians play together for three decades) is a declaration of love and homage of the "Brothers" to their home city of Berlin. It spans the range from the old Berlin songs of big composers such as Paul Lincke and Walter Kollo to post-war years with Hildegard Knef songs or hits of the 3 Travellers. The time of the divided city, which could be hardly better articulated musically than with Udo Lindenberg's "Special Train to Pankow" and current titles by Roger Cicero or Peter Fox of course also do not miss on this musical travel to Berlin.
With this fifth CD and the new Berlin-program the Dixie Brothers demonstrate again, how they musically have evolved over the last three decades, without being unfaithful. Swing and Dixie in the modern style define the distinctive sound of the seven "Brothers" until today.
Patrick Braun – clarinet, tenor saxophone
The 'youngest' member of the band joined the Dixie Brothers shortly before the recording of the new CD in 2015. Since then, he inspires with his soulful clarinet and saxophone style.
Matthias Dannenberg – piano
The pianist and singer is one of the founding members of the band. With much spirit and charm he interprets the vocal titles of the band, including many songs made famous by Frank Sinatra, Ella Fitzgerald and Ray Charles.
Michael Gröner – drums
With 15 he began to play drums and learned among others from Trevor Richards and Rolo Rodriguez. As accomplished drummer for Dixieland, swing and Big Band jazz, he is a familiar face in the jazz scene and since 1993 for the swinging Groove of the Dixie brothers.
Markus Hirt – double bass
As one of the founding fathers of the Dixie Brothers, Markus "Calle" Hirt sets the bass lines. With his artfully decorated double bass or with his bass guitar he is exactly on the beat.
Oliver Schulz – trumpet, flugelhorn
As a passionate swing and Big Band trumpeter, Oliver Schulz plays the lead voice since 1985. In addition, he hosts the concerts as emcee and is responsible for a preferably full schedule as a manager of the band.
Christian Weymar – guitar
The man of the first hour not only excels in its classic sound on one of his numerous guitars, but also with nimble-fingered solos and a finely-woven carpet of harmony. With the band's own sound system he also ensures the full sound of the Brothers.
Ralf Zickerick – trombone
Known from the Babelsberg Film Orchestra, he plays his trumpet with the "Brothers" powerfully and arranges for the band.