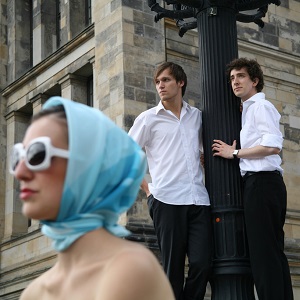 Gerry getz Chet is an up-and-coming jazz trio from Berlin, Germany, comprising Marie Séférian (voc), Timo Vollbrecht (sax) and Benjamin Attiche (git). As the name suggests, the band derives its inspiration from the three Cool Jazz musicians Gerry Mulligan, Stan Getz and Chet Baker. When you listen to this group you will experience a blend of emotional honesty and dynamic energy. The fine arrangements provide transparency you usually find in chamber music. The three improvisers combine counterpunctual melodies to form their own harmonic language. Thereby they enrich the musical material from the 50s through their own individual and contemporary interpretation. Gerry getz Chet has performed at various prestigious venues in and outside of Germany.
Marie Séférian – vocals
Born in 1984, vocalist Marie Séférian from Muenster, Germany, started out studying classical music before she discovered her love for jazz. In Enschede, Netherlands, she began her academic jazz degree. After two years of living in a small Dutch town she moved to Berlin. There she studied with great artists such as Judy Niemack and David Friedman before heading to Bern, Switzerland. There she was doing her graduate studies, working with Lauren Newton. Currently she works as a teacher in Dublin, Ireland. In 2011 she released her debut solo album "Liban" and performs throughout Europe, the Lebanon and South America.
Timo Vollbrecht – saxophone
Saxophonist and composer Timo Vollbrecht (*1985) studied at the Jazz Institute Berlin in Germany. He has been performing throughout Europe, the USA, the Middle East, Russia and South America. He is a stipendiary of the German Academic Foundation and won the National Jazz Award in 2005. In 2010 he received a Fulbright scholarship in order to continue his graduate studies at New York University with Mark Turner and Joe Lovano. Currently he is performing at renowned venues such as Dizzy's Club at the Lincoln Center in New York City.
Benjamin Attiche – guitar
Benjamin Attiche was born in 1986 and grew up in Northern Germany. He started playing the guitar when he was eleven years old and studied at first with jazz guitarist Sandra Hempel in Hamburg. In 2004 he received the All State Jazz Award. Attiche has been studying for four years with guitarist Kurt Rosenwinkel at the Jazz Institute Berlin. He played in Peter Herbolzheimer's big band and
was awarded a studio recording production by the Berlin Jazz Prize. Over the last couple of years he worked and lived in several city such as Amsterdam, Lima (Peru) and New York City. Currently he is living in Berlin.