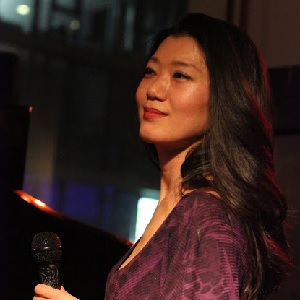 Born in Osaka, Minami is a graduate of the Arrow Jazz Orchestra Music School. She started performing as a jazz vocalist when she was 20 years old. After her first gig at Jazz Club Candy in Kyoto, she became a regular on the Kansai area jazz scene, performing with the big band as a house vocalist at the Osaka Blue Note, as well as in many jazz lounges, live houses, and hotels. It was then that she began adding Latin rhythms to her repertoire, such as Bossa Nova, Salsa music and dance (with professional Salsa dancers as invited guests).
A flexible vocalist with many interests underlined by her unmistakable and unique style, Minami's repertoire spans the standard jazz numbers, Swing, Latin, Chanson, Rock n' Roll, and traditional Japanese folk music. She sings in English, Spanish, Portuguese, Italian, and Japanese, transmitting the soul of the song as it was originally composed.
Minami moved to Berlin in 2011 and quickly got involved in the jazz scene. She has performed in many of the city's venerable jazz clubs, as well as for private functions and in luxury hotels such as the Regent, both with her own assembled musicians and with the band Jazz-A-Gogo (2013-2015).
With the release of her debut album AGUAS DEL MUNDO in February 2016 a long-cherished dream came true for Minami. The CD was recorded at Greeve Studio in Berlin with international top musicians, Tino Derado (piano), Martin Lillich (bass), Diego Pinera (drums), Felix Astor (guitar, vocals), Robby Geerken (congas), YuMA (violin) and Takashi Kinsho (guitar).
Minami is strongly committed to animal welfare. Her own composition "Seed of Merci" is dedicated to all life in the world. In the spirit of this song, she donates a third of the proceeds from the album to the Organization Eva in Tokyo.