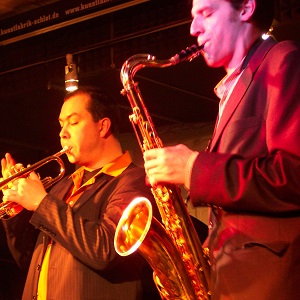 In 2004, the Hahn-Wiesner Quintet played its first gig. At that time the wish was born to go to the studio with this band, which was finally fulfilled in 2010 and resulted in the CD "Project Style". With this album, the quintet ties in with the hard bop recordings of the 50s, 60s years and adds its own facets to this sound. With one exception, it consists of original compositions, which are presented in elaborate arrangements with devotion and coolness.
Jürgen Hahn plays trumpet since the eleventh year of life. From 1983 to 1988 he studied orchestra music with major subject trumpet at the Hochschule für Musik Würzburg, where he completed postgraduate studies in jazz. In addition, he had lessons with Claudio Roditi, Cecil Bridgewater, Philip Harper, and Richie Vitale since 1986. From 1991 to 1996 he taught at the GhK in Kassel, since 2010 he teaches jazz trumpet at the Hochschule für Musik Carl Maria von Weber in Dresden. Hahn played not only with his own band, but also with Al Porcino, the Sunday night Orchestra and Dusko Goykovich.
Finn Wiesner studied at the Hilversum Conservatory of the "Amsterdam School of Arts", when Ferdinand Povel, diploma saxophone jazz. He played with Vincent Herring, Deborah Brown, Gunther Schuller, Lyambiko, Heinrich Koebberling, Marc Muellbauer, J. Moods Quartet, Brandicity, Swing Dance Orchestra, new German Art Orchestra. As a composer and songwriter Wiesner is represented on Lyambiko "Love and Then", "Inner Sense", "Something like Reality". Since October 2010, he is a Professor of saxophone at the Academy of Music Carl Maria von Weber in Dresden. Within the framework of the College there were performances with Till Brönner, Celine Rudolph, Günther "Baby" Sommer.