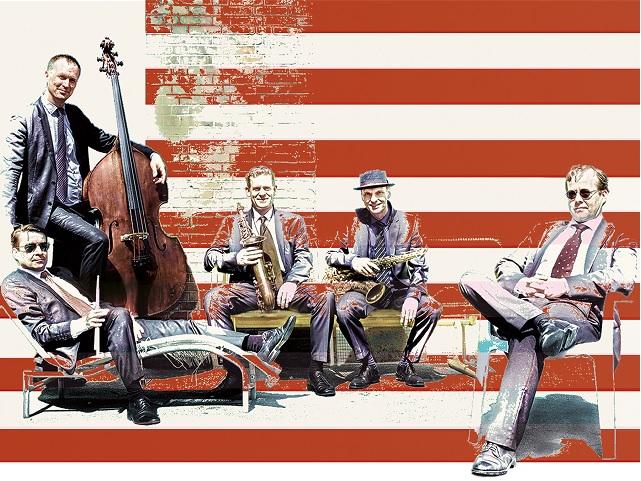 The Toughest Tenors are about to drop their third Album, "Well-Kept Secrets." The five undercover agents from Berlin (Bernd Suchland; Patrick Braun; Dan-Robin Matthies; Lars Gühlke and Ralf Ruh) once again divulge some of the arcane musical knowledge they've managed to smuggle out of the Land of Opportunity (where Jazz developed as a unique cultural treasure).
The Toughest Tenors, who have been in action for two decades now, operate covertly in the last  few remaining Jazz Cellars in this world, where they live out their own personal American Dream. They're an insider's tip; they exist outside the spectrum of social media, cultural sponsorship, and European jazz fashion. They use their sensitive antennae to receive and decode original Jazz data that had long been given up for lost and they revive and represent it in the face of modern Crossover. They're cool, they're incorruptible, and they know their business. They plug into a time where Jazz still had an earthy style, swung hard, was packed with blues and soul, and reached a public that turned up the radio, swung along, and couldn't stay in its seats. The pair of tenor personalities Suchland and Braun, though unified in their mission, manage to find completely distinct paths in sound and phrasing: two independent intelligent operatives who complement and inspire each other.
With flair that rivals Fleming's creations, they've put together a CD with 10 selected top secrets. Their bugging operation into almost completely unknown rarities by the likes of Gene Ammons, Johnny Griffin, or Melba Liston has put a bug into music critics and NSA alike, and passed the spirit of this music onward to reach an audience that's still amazed – after over 350 concerts – to find that it can't be heard anywhere else anymore.
The Toughest Tenors broke the code long ago. And they continue to rewrite it. With this CD, they're sending their message over the air, into the ether, perhaps out into space, past stars to faraway planets where Jazz just might be more at home than it is here on Earth. Maybe there's a reunion with their heroes, the Jazz Greats of Old, waiting for them out there somewhere.
Bernd Suchland – tenor saxophon
Patrick Braun – tenor saxophon
Dan-Robin Matthies – piano
Lars Gühlcke – bass
Ralf Ruh – drums