Marcel & the Bathing Birds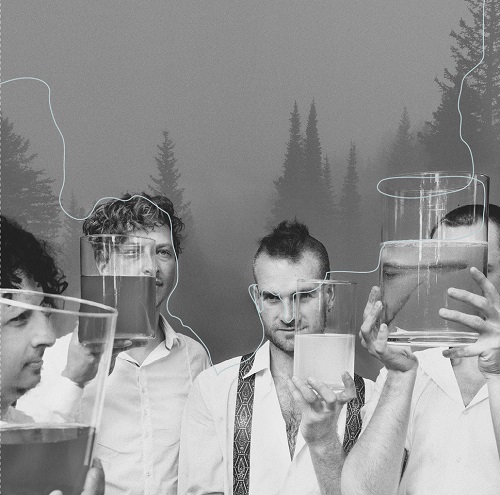 Bathing Birds
Marcel Krömker (doublebass)
Alex Sipiagin (trumpet)
Dan Freeman (saxophone)
Diego Pinera (drums)
Marcel Krömker has been playing with saxophonist Dan Freeman and drummer Diego Pinera for twelve years. Countless trips to Asia or South America and just as many shared experiences have brought the three musicians together over a dozen years. This solidarity is expressed in the group sound in a fascinating interplay of density and transparency. On a tour, Mingus and Evans-proven trumpeter Alex Sipiagin initially joined as a guest until he completed Krömker's trio as a quartet.
Born in 1981 in Germany, Marcel Krömker began at the age of 6 with classical guitar lessons. The double bass training in classical and jazz music began at the age of 15. For two years he attended a workshop given by the famous American Jazz drummer Douglus Sides (played with Hank Jones, Joe Henderson, Johnny Griffin). Marcel was invited by the National Youth Orchestra and BuJazzo. He received two first prizes and several prizes at Youth Jazz Competition and a first prize at the Youth Music Competition, between 1999 and 2001. Lessons with David Friedman, as well as Masterclasses among others with Bobby McFerrin, John Rocco, Joey Baron, Kenny Werner, John Scofield, Terry Lynn Carington, Richard Bona and the bassists Drew Gress, Mike Richmond (Miles Davis), Martin Wind (Pat Metheny) and John Clayton (Count Basie) followed during his studies at the Conservatorium van Amsterdam and the Jazz Institute Berlin. He also collaborats with Visual Artitsts, Theater productions, Movie makers and dancers. Some of his musical highlights are concerts with Nils Landgreen, Toni Lakatosh, Tino Derado, Changuito (9 Grammy awards), Pernell Saturnino, Michael Moore, Jasper Blom, Leni Stern, Diego Pinera, Philip Gropper and many others. Since 2007 he works as a touring and studio musician with releases by well-known labels such as Traumton, ACT and Laika with Pär Lammers Trio, Chris Gall Trio feat. Center, Sebastian Schunke Group, Enik, Ed Kröger Quintet, Mr.EART. Marcel Krömker was performing all over the world in 24 countries of Europe, China, Korea, UAE, Africa/Marocco, Argentina, Uruguy, Peru, Columbia, Venezuela and the United States.
Jazz Festivals worldwide has seen Alex Sipiagin performing with the likes of Dave Holland, Michael Brecker, the Mingus groups, etc. Born on June 11, 1967 inYaroslavl, Russia, Alex began studying the trumpet at age 12, studying at the Moscow Music Institute and the Gnessin Conservatory in Moscow where hereceived his Baccalaureate. In 1990, Alex participated in the International Louis Armstrong Competition sponsored by the Thelonius Monk Institute in WashingtonD.C. winning top honors and soon after relocated to the jazz mecca of the world, New York City. Alex soon became a favored player for various bands including the Gil Evans Orchestra, Gil Goldstein's Zebra Coast Orchestra, the George Gruntz ConcertJazz Band, drummer Bob Moses' band Mozamba, Mingus Big Band as well as the Mingus Dynasty and Mingus Orchestra, and the Dave Holland Big Band, Sextet and Octet groups. In 2003 he recorded with Michael Brecker's Quindectet touring also with the Michael Brecker Sextet. Alex has also worked with Eric Clapton, Dr.John, Aaron Neville, Elvis Costello, Michael Franks, Dave Sanborn, Deborah Cox, legendary producer Phil Ramone, Gonzalo Rubalcaba, etc., and many of the recordings he has been involved in has been nominated and/or won the Grammy's (Dave Holland Big Band's "What Goes Around," and " Overtime,"Michael Brecker's Qindectet "Wide Angles"). As a soloist, Sipiagin has eleven recordings out to his credit and has toured extensively throughout Europe, U.S., Japan and Russia with his own group. He also teaches at the Groningen Prince Claus Conservatory, Academy of Music, Basel, Switzerland as well steady professorship at NYU. He recorded 15 solo albums for one of prestiges jazz label "CrissCrossJazz". His recent album of his compositions and arrangements "Balance 38-58″ features such noted musicians as Eric Harland, David Binney, Adam Rogers and Matt Brewer.
Dan Freeman is a Tasmanian saxophonist, singer-songwriter, multi-instrumentalist composer, producer, artist and coffee roaster. He has been predominantly seen on stage as a sideman saxophonist and is the creator of the Berlin based band Dan Freeman and the Serious, which since 2007 has been creating music, most of which can be described as experimental Indie Pop. He is well known for his calm, high and warm voice and intricate songwriting style.
Freeman's music has encompassed a number of styles over the course of his career, avant-garde Jazz, Grunge, Afro-Cuban Jazz, Indie Rock, Post New Wave, Electronic music, African tribal, Indian, new Psychedelic and Punk Pop. Though his popularity has been somewhat slow moving within the Popular scene over the years, much of Freeman's songs have made a significant impact within the underground Berlin Indie and Jazz scenes. His music can be compared to artists such as Radiohead, Talking heads, Paul McCartney and the Wings, Beck, Grizzly Bear, George Michael, David Bowie. On the saxophone he is highly inspired by the great saxophone players of the 4Os, 50s and 60s.
Diego Pinera was born 1981 in Montevideo, Uruguay, but has lived in Germany since 2003. He studied at the Berklee College of Music (U.S.), the University of Music in Havana (Cuba), and the University of Music and Theater in Leipzig (Germany). Pinera's encounters with Latin American music, and with jazz in all its breadth, have led him to develop an unmistakable style. Through the combination of his advanced conception of rhythm, a jazz sound with a Latin touch, and the freedom of improvisation his strong character comes across vividly. In Pineras music there is musical complexity and virtuosity in abundance, but it is imbued with great subtlety. Diego Pinera was also the winner from the German award ECHO for best jazz drummer in 2017.