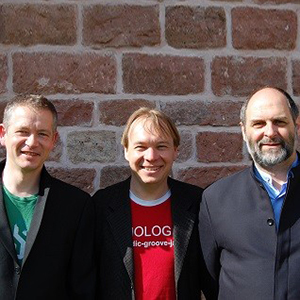 Triologic, these are three instrumentalists, three composers, three jazz musicians who do not fit in any category. Yet to characterize the music of this group, the term "Melodic Groove Jazz" has been created, to describe the common concept. Without stylistic limits, Triologic's music has absorbed all possible influences and surprises the audience by their amazing diversity. Since the band was founded in 2000, the third album "Music" was released in 2015.
Tom Andelfinger is a German Jazz guitarist and composer. Andelfinger received his first guitar lessons at the age of nine, and in 1978, he made first band experiences. From 1986 to 1992, he played in the jazz-rock project of Al Capone. With this band, the album Empty Pockets has been recorded in 1988. In the 1990s Andelfinger evolved into one of the most sought after guitarists of the southern Palatinate region. Many projects followed in the fields of Blues, Funk, soul, fingerstyle and jazz. In addition he attended workshops with Frank Gambale and Jens Gebel from Tok tok tok. In 1994 he played in the Big Band Brass Connection, which resulted in contact to musicians of the Mannheim jazz scene. In the following years he worked in various jazz combos, among others with Steffen Weber and Thomas Siffling, and from 1998 he was leader of the Andelfinger Jazz Trio. Other projects are the ensemble Count Spacy and the Andelfinger Jazz Duo with Michael Gass.
Christoph Niemann is a German double bassist in the jazz and classical music as well as arranger and composer. Niemann studied double bass in the years 1975-77 at the Hochschule für Musik "Hanns Eisler" Berlin and after moving to West Berlin in 1977 at the Hochschule der Künste Berlin from 1978 to 1980. As composer, arranger and performer in various Chamber music ensembles and jazz groups he worked among others on the formation of Exis (1971-73) with Conny Bauer, from 1974 to early 1977 in jazz group FEZ with Hannes Zerbe and Conny Bauer. Niemann also played with many famous jazz musicians, such as Ulrich Gumperts workshop band, Manfred Schulze, Andy Abdo fields, Joe Sachse, Manfred Hering, Aladár Pege, Bronis?aw Suchanek, Leo Wright, Wolfgang Köhler, and Rolf von Nordenskjöld. Also he accompanied Etta Cameron, Madeline Bell, Georgie Fame, Bill Ramsey, Jocelyn B. Smith, Elly Wright, Ruth Hohmann and Pascal von Wroblewsky. Since 1978, he is member of, and since 1995 deputy solo double bass player in the Orchestra of the Deutsche Oper Berlin.
Rüdiger Ruppert plays drums and piano since he was nine. He was prize winner at Jugend musiziert and studied at the Hochschule für Musik Karlsruhe. In 1993, he was a member of the Young German Philharmonic Orchestra and has worked as a drummer in the Orchestra of the Deutsche Oper Berlin since 1994. He also plays in the Big Band of the German Opera Berlin under the direction of Rolf von Nordenskjold. In the context of the Deutsche Oper he also works in the series of events Jazz & breakfast with Sebastian Król and Martin Hattenbach. With the quintet soloists of the Deutsche Oper in Berlin he took part as a xylophonist on an album with classical works by Joly Braga Santos, Jorge Peixinho, Filipe de Sousa and José Vianna da Motta. Furthermore, he was a guest lecturer at several youth orchestras and universities. As a composer, he published works for classical percussion and jazz trio.